I have always loved shopping for people! Shopping for Christmas gifts, housewarming parties, birthday presents, bridal showers, any opportunity to buy gifts for someone is very exciting to me!
Recently, my friend Maria, over at
Agape Love Designs
, came up with the idea for us to do a swap! We exchanged a few emails talking about our makeup preferences, favorite brands, and colors, exchanged addresses, and went shopping! My package from Maria came last week! I was actually at the lake when the mail ran. My fiance called me and told me that there was a package for me at the house and I knew exactly what it was! Don't get me wrong, the lake was great, but the whole weekend, my mind was on that package sitting at my house! When I got home on Sunday, I went STRAIGHT for it! (Do NOT pass go. Do NOT collect $200. Do NOT even stop to pet your cat!) I tore into it and didn't even think to take pictures of how beautifully everything was packaged!
Last thing, I am linking up with Maria and our friend Andrea (Wink4PinkBlog) for their #makeupmonday linky party! Make sure you come by and link your Instagram pics, Keeks, blog posts, YouTube videos, etc and join the partayyy! Click hurrr:
http://www.agapelovedesigns.com/2013/08/makeup-monday-linky-party.html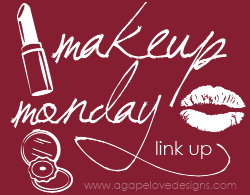 Have a great week, my friends!!
Spread love & be kind!