I recently found some pretty cool nail art tools at Sally Beauty Supply. One thing I found was a pack of nail striping tape! The tape can be used for MANY different things. For this simple little pedicure, I just used the white roll to create a very simple design that turned out MUCH better than I thought it was going to!
My feet are hideous. My toes are crooked, and I have scars and even some fresh puncture wounds from a couple of little kittens that I love so much, even though they do butcher my feet! Literally, the only way to make my feet even KIND OF cute, is to fancy up my toe nails!
Also, yes there is a gemini tattoo on my foot...no, I'm not a gemini. Don't ask. haha!
I love Essie polishes! They are my favorite brand of polish (tied for first place with ORLY) because of the color selection! I have ran into a couple of Essie polishes that are poorly formulated and peel & chip very fast, but not many! I buy mine at Target.
I've been buying Pure Ice polishes since I began painting my nails! They are usually very opaque, but I don't expect them to last long on my nails. They are always chipped by the end of the day, but they are very cheap, so it's okay! They also have a great variety of colors! I buy mine at WalMart.
I purchased "Speechless" early this spring and I have gotten great use out of it. It is a great color and appropriate for all year round!
I just bought "Bobbing for Baubles" about two weeks ago.
I have wanted this color since it came out and I'm so glad that I finally did! It is a grey-based navy blue. It will be perfect for fall and it pairs well with a ton of different colors!
I can NOT paint a straight line on my nails. It doesn't matter what kind of brush I use. I have tried using scotch tape as a guide. I just can not do it! Truthfully, I was not expecting these tapes to work. I really didn't think they were going to stay on! So far, they have and I'm very pleased with them. I'm definitely planning to go back for more. I found mine at Sally's, but I couldn't find them on their website. These are similar.
I originally painted all ten toes with Bobbing for Baubles. They needed something else, to I put one coat of Speechless over the piggy that stayed home, and I like that the blue can still be seen under the wash of pink. It is exactly what I needed to change the look just a little bit.
There's that stupid tattoo again....WHY did I do that?????!!!!!!!!!!
Ugh. Oh well...at least it's not his name...
Thanks so much for coming by today! Again, I'm sorry for my ugly feet! I don't know what I would do without nail polish to make my feet relatively pleasing to look at! I LOVE that I've discovered this striping tape! Have you made any discoveries in nail art that I should know about??
I hope you girls enjoyed this post! I'm linking up for MakeupMonday, hosted by Agape Love Designs and Wink4Pink. Make sure you swing by and link up ANYTHING beauty related that you have! It can be a blog post, YouTube video, Keek, Instagram picture, or whatever you have as long as it's beauty related!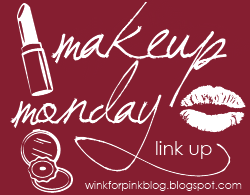 I hope you girls have a wonderful Wednesday!
Spread love and be kind!